I can remember the really shitty Simpsons animation shorts from the Tracy Ulman show that were funny to me as a kid. Over the years right up to my late twenties I found the Simpsons pretty damn funny, now I hardly laugh.
I especially enjoyed the episodes that Conan O'Brien I believe wrote, but the show to me is done. Even the movie that came out... it was like a bunch of episodes and they called it a movie. At least kill of a character or 2... having something major happen.
So the big news the past few days was they wanted the voice actors to take from what I heard a 70% cut in wages. From what I have been reading they were willing, but they wanted a cut from the profits the show makes. That is where fox makes its money off THE SIMPSONS... toys, video games, t-shirts.
So apparently they came to agreement that the show will get 2 more seasons and maybe they could turn it around. They have competition with all of Seth Greens shows... which can be funny but lack originality.
Good luck... I wouldnt shed a tear if the show ended, I would feel bad that a show that use to be so funny just burnt itself out.
Yeah fuck you to Homer.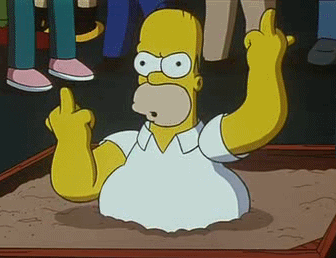 And on October 27th... these morons are back on T.V.
R.M.R.P. The REALvolution...